When it comes to your delivery needs, we at Bufvelo are uniquely suited to meet them. We have the tools, the experience and the attitude to help you succeed, and we're living and working in a city meant to be biked! You already know we're clever wordsmiths (Buffalo Bufvelo Buffalo Bufvelo Buffalo Bufvelo Buffalo Bufvelo)--but did you know these 5 reasons for why to choose bike delivery in Buffalo?
Bike delivery is a fast and effective method to move your product, and we do it best
Bikes have proven to travel cities faster than cars seven years straight in the annual Great NYC Commuter Race (don't believe us, click here). Remember, bicycle couriers are immune to traffic jams.
With over a decade of combined courier experience, we know how to manage and schedule deliveries so you can trust that we will always deliver (pun intended) on our promises. Experience as a courier is essential not only to our ability to transport by bike, but also when it comes to navigating elevators, offices, and security teams.
Buffalo is physically compatible with cargo bike delivery, and keeps on improving
It's so flat! We love the ease of cycling our new city, and how fast we can go from point A to point B.

Buffalo's streets are also undergoing a transformation. Buffalo's first regional bicycle plan came about in 1981, and was renewed in 1998 with the Regional Bikeway Implementation Program, aimed at increasing dedicated bikeways in the area. This plan was followed by another in 2008 which served as the foundation for the Buffalo Bicycle Facility Master Plan Update in place today. According to the BBFMPU site, found here, the plan has the following goals:
"The Buffalo Bicycle Facility Master Plan is a collaborative project with the City of Buffalo and GObike Buffalo working together to make the city more bicycle friendly. The effort will document the community's comprehensive vision and provide a detailed work plan for increasing the attractiveness of bicycling over time as a key strategy for enhancing overall livability in Buffalo. It will compliment current plans and outline how the community's vision to become more bicycle friendly will be achieved over time."

The plan is part of a movement to "complete the streets" for pedestrians, public transportations users, children, parents, the disabled, and, cyclists. Clearly Buffalo is on track to become increasingly bike friendly, which is of obvious importance to couriers and to the success of the delivery services they provide.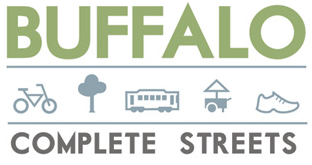 Promoting Bufvelo is good for Buffalo
Choosing cargo bike delivery reduces congestion caused by traffic, and promotes the development of infrastructure like bike lanes which contribute to Buffalo's reputation as an exciting, intelligent, progressive destination.
Bicycle infrastructure is proven to increase economic growth, and the property value in the surrounding area.
When you choose Bufvelo, you're supporting a local business. We are new here, and we see the strength in Buffalo's small, local business scene. We are thrilled to be part of it, and your support means the world.
There are so many more reasons for why to choose bike delivery for Buffelo, and we'd and we'd love to show you these benefits, and how Bufvelo does it best, with every delivery we make for your business.