You've seen our posts on what couriers carry and how they learn about the city, but if you're still wondering, what do couriers do? Couriers create community. On a local scale, bicycle messengers tend to form a tight knit community and stick together. Small city-wide races are organized regularly to benefit a cause or just for fun, which encourages messengers from other cities to visit. In the past few decades, these little communities have grown more connected. Regional and world championships have cropped up, and many messengers travel to as many as they can.
Back in Boston, we loved competing in races run by friends and co-workers, and spending free time with other couriers. Couriers became some of our closest friends, and made up a significant number of the guests invited to our wedding two years ago.
Buffalo's own Rebecca Reilly, who made a name for herself decades ago while travelling all over the country to do messenger work and decided to write a book about it called Nerves of Steel: Bike Messengers in the United States, is organizing an event in Buffalo this summer. Check out her website here to learn about Rebecca Reilly and the bicycle messengering community.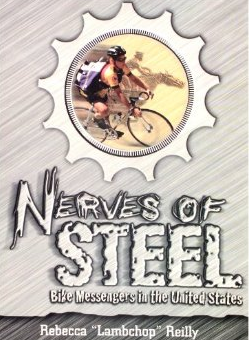 We're also hoping to make it to this year's North American Cycle Courier Championships and the Cycle Messenger World Championship in Paris. (Check out our post on the CMWC here!) These large gatherings can be a way to meet new people and explore a new city or be the fastest in races, if that's your thing, but it's also a way to celebrate the work and strengthen our communities.