Working as a bike courier might seem easy and straightforward from the outside, but it actually takes years to learn the ropes and become proficient. There's so much to learn, from how to watch and interact with traffic, to properly handling different cargo, to bike maintenance, and more. If you're wondering, what do couriers do? One thing we do is carry a lot of strange cargo. Here is some insight on what we've carried with us as bicycle couriers.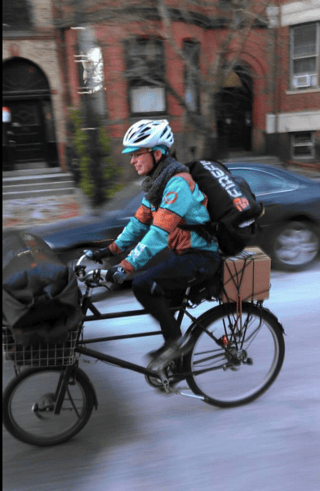 Some of the things I've carried over the years include cookies, architectural rolls, expensive jewelry, large shipments of tea, legal documents, CSA farm shares, hundreds of pounds of local vegetables for restaurants, locally made cheese, bank deposits, books, groceries, umbrellas, cases of wine, local chocolates, mail tubs, a full worm composting system, and stone samples. We've even been known to carry each other: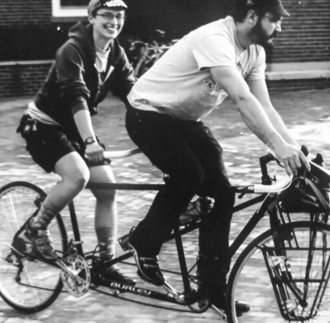 The list is almost endless - if there's something you need brought around town and can't do it yourself, a courier is the person to call. Anything from round-trip court fillings to picking up your order from the hardware or print store to having the laptop you forgot at work brought to your home, we've probably done a similar job before, and experience counts.
Working in this industry leaves you with innumerable stories and memories, and one of the best parts is the huge variety of people and businesses you meet and help along the way. I learned how to interact with people so that I could move and work more efficiently, like building a friendship with security, knowing the contact names so you can find the package faster, asking the right questions when they call in a job, and deciphering complicated instructions to make the job run as smoothly as possible.