Buffalo is known for its intense weather events, but it can't top the record snow in Boston last year. In addition to periods of extreme cold, at 108.6 inches of snow, Boston's 2015 snowfall was the greatest in the 143 years that records have been kept. We worked as Boston bike messengers throughout the record cold and snow. So if you're asking yourself the question, can you keep biking Buffalo during winter, we say yes! The only thing that ever kept us home was a snow emergency. Proper clothing, well-tuned bikes and skillful riding kept us on the road throughout the most extreme of conditions. In addition to enjoying the challenge of tough-weather riding, we were pleased that snow and cold keep many of Boston's bad drivers off the road!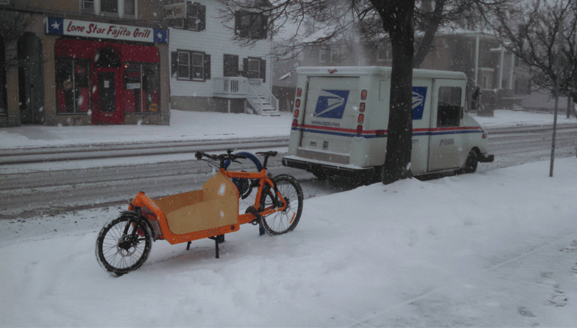 Why is this important? Nat and I point to our skill and experience in riding in rough conditions and the advantages of bike delivery when parking is close to impossible. Our bikes are ready to handle snow and ice, and our cargo bags are waterproof and weatherproof. Here's a picture Nat took of his commute in Buffalo yesterday, he loves commuting: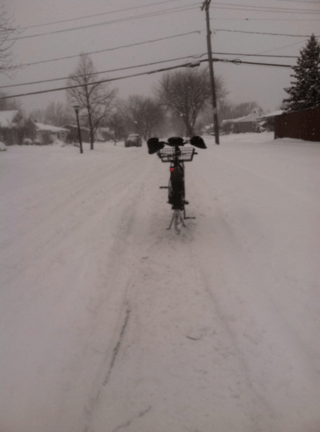 We also point to the bad reputation that Buffalo has as the snowiest spot in the USA--but Buffalo doesn't make most top 5 snowiest US cities lists! Check out the snow totals in 2015—we're #8!
Sault Ste. Marie, Mich. — 158.7 inches (110.1)
Marquette, Mich. — 157 inches (178.2)
Bangor, Maine — 131.5 inches (59.3)
Caribou, Maine — 129.4 inches (96.2)
Syracuse, N.Y. — 118.5 inches (116.3)
Worcester, Mass. — 116.8 inches (58.6)
Boston, Mass. — 110.3 inches (40.2)
Buffalo, N.Y. — 109.3 inches (88.8)
Erie, Pa. — 104 inches (94.4)
Gray, Maine — 103.7 inches (74.2)
Bufvelo is working hard to counter the bad rap that our beautiful, mostly flat city has! Keep biking Buffalo with us this winter.